Industry leading
MINT - Mobile Efficiency Audit Tool
A streamlined, integrated approach to collecting building data quickly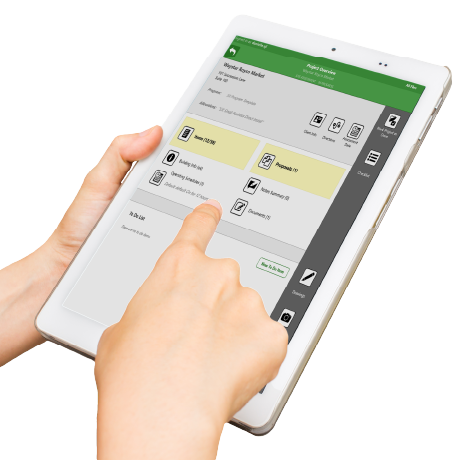 Empowering Contractors and Vendors:
REDUCE AUDIT TO PROPOSAL TIME & LOWER LABOR COSTS.
Designed from the ground up to enable audits and data collection by non-energy experts. The Hancock mobile apps enable field workers to collect data and determine program eligibility across all of your programs on the spot. BPI 2400 compliant.

Hancock Software's platform facilitates collaboration and coordination among contractors, trade allies, and other program stakeholders. Improve communication, streamline workflows, and enhance productivity across energy efficiency residential coordinated delivery programs.
New to Energy Program Management? Read our Whitepaper on When to Use a Priority Audit vs a Weatherization Audit
User Experience Consistency with Hancock MINT
IRA Home Energy Rebates requires easy to use interfaces and exceptional experiences for all program participants. This includes contractors, suppliers, and other stakeholders.
The MINT mobile application ensures that each auditor, contractor, inspector, and other stakeholder, regardless of experience
Collects the same data,
Abides by the same rules, and
Gets consistent results.
MINT enforces measure selection, funding rules, and regulations governing both single-family and multifamily structures across all programs. MINT prevents inconsistencies in measure selection and misuse or duplication of funding. As the MINT app is fully integrated with Hancock Cloud and the program definitions, all data is instantly available to the Program Manager and Audit teams.
Hancock MINT exceeds IRA program requirements by providing:
Customer validation for the auditor while on-site

Collect virtual signatures from occupants and building owners attesting to the accuracy of the submitted information
Collect Billing Release forms

Perform a guided step-by-step data intake with error checking on each field for all aspects of the home environment based on the audit type, customer qualification, and house type, including:

BPI2400 - DOE-approved home energy models with fully integrated software
Priority Audits (or guided audits based on your TRM)
Measured savings (M&V) calculations and data collection M&V
Secondary mechanisms for DOE scoring to double-check the baseline

Home assessment data collection

Uploading or entering utility bills from homes where rebates have been applied
Accept geo-located photos of installed equipment

Determine eligibility of proposed improvement

product type (e.g., water heater, induction cooktop)
home's existing system that will be replaced or displaced
product specifications

Customer Report - Instant results reporting and assessment emailed right from the app in PDF form to review with the customer while on site. The customizable report includes:

Energy usage,
Efficiency measures such as insulation levels, air leakage, heating and cooling systems, appliance efficiency, and lighting,
Energy-saving opportunities,
Health and safety concerns, and
Recommendations overall impact on the customer's home and utility bills.

Quality Assurance


Customers, contractors, and inspectors can supply feedback for each measure installed in the project.
Add survey questions to be filled out post-installation, meeting the Home Energy Rebates requirements.
As MINT and Hancock Cloud are fully integrated, all details and ratings are instantly available to Program Managers and Audit teams and integrated into the reporting.
Instantly know whether your program is meeting the quality standards set in your program guide by funding, contractor, measure, and project.
Digital Incentive Applications in One-click

The Hancock Energy Energy Efficiency Cloud's Incentives Center transforms your building site assessments into utility incentive applications. Customize incentives, measures and product lists and self-configure data collection to get a tailor-made mobile app for any type of energy efficiency initiative.
Customize Templates
Build templates for all types of audits.
Tailor the catalogs, measures, and incentives for full ASHRAE Level l, ll, or lll assessments by choosing from our hundreds of pre-populated libraries for everything from lighting to HVAC to mechanics, or adding your own customized intake lists.
Lighting, ASHRAE Levels 1 & 2 Energy Audits

Reduce the complexity of energy retrofits. Energy audit offline, on any building type using any type of mobile tablet. Pre-populated with thousands of library items, the app proposes computer-generated energy savings recommendations. Once collected, the data syncs with the cloud, facilitating instant collaboration across multiple users in real time.



Hancock MINT
Hancock Mint is the only mobile application that supports complete ASHRAE Level 2 audit and proposal on site and Offline.

With MINT, you are able to instantly record existing conditions and proposed replacements.
With a simple-to-use record of inventory, pricing and content are easily customized for each company for any type of energy efficiency product. Mint can even recommend measures.

Mint provides a Dramatically shorter time from site assessment to proposal. All of your data is securely stored in the cloud, and available to your team before you get back to the office.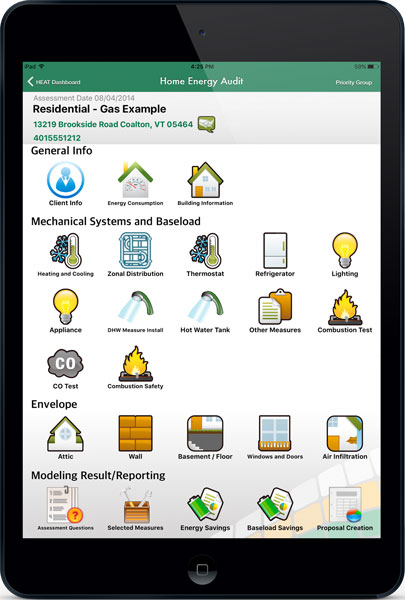 U.S. Department of Energy (DOE) Approved Energy Modeling and Customized Electronic Data Capture for Residential Energy Efficiency
Energy Modeling - Offline.

The only residential energy audit where the entire energy model and customer education reporting operate offline as a standalone mobile app.

Electronic signatures
Homeowner Questionnaires
Ashrae 62.2 -2013 calculator
Quality Control Inspections
HPXML Export
TMY3 Weather Data
Energy modeling for single-family and mobile homes
Operate in quick audit mode and customize data capture
U.S. Department of Energy (DOE)
Accurate, Proven & Easy-to-use.


Technically proven to be accurate. Has been U.S. Department of Energy (DOE) certified and tested, RESNET tested and evaluated by third-party EM&V firms. In every case, HEAT has been proven to provide detailed, accurate results for energy loss, peak load system sizing, and projected savings.